Kanban System Design course
Live Virtual (London, UK time)
18-19th May 2021
£995 + VAT
The Kanban Method is a management method to improve service delivery, catalyze improvements and evolve a business to be "fit for purpose". In this class, we will cover simple concepts that are powerful in helping you organize, understand and manage your work.
The 2-day course is a mix of presentation, simulation, and exercises. You will learn how to design a Kanban system and initiate evolutionary change with Kanban. You will learn the basic concepts of flow, pull, and collaborative improvement. You will also learn how to become faster and more responsive through better risk management and governance. You will gain practical insights on how to understand your systems of work so that you can implement or improve Kanban within your organization.
Who Should Attend
This course is suited for those who want to acquire solid knowledge about the core of the Kanban method, and want to design or improve Kanban systems. This particularly includes but is not limited to:
Project and Program Manager
Product Owners, Scrum Masters, Development Team members
Team leads, Managers
Development leads
Business Analysts
Team Members
Course Objectives
Learn the Principles and Practices of the Kanban Method
Experience the flow of a Kanban system
Learn how to identify work item types and classes of service
Utilize the Systems Thinking Approach to Introducing Kanban (STATIK) to understand your systems of work and how to design your initial Kanban system
Learn the fundamentals of visual board design and ticket design
Certifications
This course has been accredited by the Kanban University. Students completing this class and the Kanban Management Professional class will receive the Kanban Management Professional (KMP) credential.
Venue Location
This will be a Live Virtual Remote / Online class. You can find out more
here
.
You will attend online and be able to see, hear and interact with the trainer and the other attendees. The format and structure of the course remain unchanged and we cover all the same material and topics as if you were attending in person.
Attendees will interact throughout joining in discussions and taking part in group activities and exercises. Lessons are be broken down into short sections followed by a break to allow regular time away from the screen.
The class will run from 09:00 to 17:00 each day in the time zone where the class is scheduled.

Full details on how to participate will be sent to you by email shortly before the class.
Live Virtual Class Requirements:
– Computer with an internet connection.
– Microphone and Speakers.
– Webcam
– Free install of Zoom.us
– We can assist you with the setup in the days before the class if required. Get in touch.
– The trainer will be available for 30 minutes each day before the course starts to offer any technical assistance to get you set up.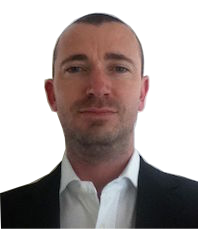 About The Trainer
Simon Kneafsey is an Accredited Kanban Trainer with Kanban University & TheScrumMaster.co.uk. He is on a mission to simplify Agility for a million people. He has helped 10,000+ people in 1000+ organisations in 35+ countries so far, and he can help you too!
Simon's courses come highly recommended with 400+ personal LinkedIn recommendations. He is 5 star rated on Trustpilot & Google. His clients include Google, NASA, the United Nations, Toyota, Coca Cola, Microsoft, Lloyds Banking Group, GSK and many, many more. Simon is also a Professional Scrum Trainer with Scrum.org.
You can read more about Simon Kneafsey on LinkedIn, TheScrumMaster.co.uk and you can contact him here.
Frequently Asked Questions
Are there still spaces available on this course?
If you can see the 'Register' button at the top of the page then there is space available.
How much does the Kanban Management Professional (KMP) credential cost?
The price of the Kanban Management Professional (KMP) credential is included in the course fee.
How do I achieve the Kanban Management Professional (KMP) credential?
Participants completing the Kanban System Design and the Kanban Systems Improvement courses receive the Kanban Management Professional (KMP) credential. No assessment is required.
How many people will attend?
Our courses are kept small to ensure a premium experience.
How should I prepare for the course?
Some optional materials will be shared with you shortly before your course date.
I'm not sure if I have enough experience to take the course. What should I do?
Some Kanban knowledge is required to attend. If you are unsure if you have enough, email us at [email protected] and we will advise you.
Can I pay via Credit/Debit card?
Yes. Please click the 'Register' button at the top of the page, then select the 'Register now and pay via Credit Card' option.
Can I pay via Invoice?
Yes. Please click the 'Register' button at the top of the page, then select the 'Register now and pay later via Invoice' option. Alternatively email us at [email protected].
When is VAT payable?
VAT will be removed if you supply an EU VAT number and are outside the UK. VAT is not payable for courses located outside the UK & EU. VAT is always payable for in-person courses in the UK.
Where can I find your course booking policies?
Visit our course policy page.
Where can I find more answers to common questions?
Visit our full FAQ page for more answers to frequently asked questions.
Where can I contact the trainer with further questions?
Email us at [email protected].

Course Feedback

"I had a two-day course with Simon and it was a really great experience. He is an amazing teacher and I have learned a lot from him. I recommend him to all the people that want to learn about Scrum."
Aleksandar Katalina. Senior Product Owner at Hooloovoo
"I attended a virtual course led by Simon in Nov 2020. I was a bit worried about the course being online but Simon managed to let everyone feel at ease and encouraged to participate. The course material was very good and understandable and the use of online tools to enable teamwork great. Simon is an excellent teacher and always took the time to answer questions."
Katja Zebisch. Special Projects Lead at Oxford Biomedica
"Simon delivered an engaging and educational two-day course. Utilising all of the digital tools available to deliver a seamless workshop. The learning materials were super clear, and the exercises were fun and snappy. I learnt a lot in two days that I can't wait to put into practice."
Nicolas Copeland. Consultant at Capgemini Invent
"The training provided by TheScrumMaster.co.uk was thoroughly enjoyable and educational. I will be recommending them to others."
Chris Connor. UK Police
"I attended a class from TheScrumMaster.co.uk in Chicago. The discussions and facilitated exercises made the material apply to real-world situations. We covered a lot of information in 2 days, and I felt there was excellent value in the class. I would recommend this class to others."
Vickie Ali. Motorola
"Really enjoyed the course with TheScrumMaster.co.uk this July. They explained everything very clearly and got us to work in groups to make sure we understood all the concepts."
Tina Akpogheneta. VMware
"Took the course with TheScrumMaster.co.uk. Found it really helpful and engaging. Would recommend it to anyone who is starting out with Scrum."
Tim Marlow. Director
"Thanks TheScrumMaster.co.uk for a great two-day course. It's a course I'd recommend and it was great value."
Liz Perry. Project Manager