Applying Professional Scrum course
Live Virtual (London, UK time)
7-8th June 2021
£900 + VAT. When is VAT added?
Applying Professional Scrum (APS) is a hands-on course that provides the foundational knowledge needed to work with Scrum in a highly practical way. The course is a combination of instruction and team-based exercises. During the exercises, students work in Scrum Teams over a series of Sprints to learn Scrum while using Scrum. They experience first-hand how the Scrum framework improves their ability to deliver value compared to traditional methods. The course also includes a free attempt at the globally recognised Professional Scrum Master I certification exam (PSM I). This course was previously known as Professional Scrum Foundations.
During the class, students experience Professional Scrum. They experience new, agile ways of working that enable teams to deliver more value, satisfy stakeholders and work better together. Students work together as a team in a series of Sprints to build a product, facing the same problems they face outside of class and learn how to use Scrum to address them. The events, roles, artifacts and principles of Scrum are leveraged during the exercises. By emphasizing the practical application of Scrum, the course also exposes common missteps and misunderstandings allowing students to develop an awareness of the associated symptoms and how to correct them. Students not only learn Scrum; they learn how to use Scrum well.
This class is taught both publicly and privately. In a public setting individual students or multiple colleagues from the same company, will join other students and benefit from diverse experiences. Organizations can also contract trainers to hold a private class just for their staff. APS is designed to be industry and domain agnostic; our Professional Scrum Trainers will select one of several case studies to best meet the specific learning needs of the class. Students and teams building software products may want to consider our domain-specific course: Applying Professional Scrum for Software Development.
Applying Professional Scrum is excellent training for organizations, teams, and anyone wanting to experience using Scrum. The course also provides the foundational Scrum knowledge needed for those wishing to continue their education with role-focused (Scrum Master, Product Owner, Developer, Leader) training classes. Whether you are getting started on your first Scrum effort or refreshing your knowledge, this course gives students the ability and direction to start using Scrum immediately after the class.
Who Should Attend
The Applying Professional Scrum course is the perfect introduction, reboot or refresher to Scrum. This course is for teams or anyone wanting to experience the Scrum way of working. APS provides the knowledge needed for anyone interested in taking role-focused training. We also suggest that you read through the APS Focus Areas.
Course Objectives
Learn about Agility and how Scrum differs from traditional plan-driven work models
Learn (or relearn) the fundamentals of Scrum and how to apply them correctly
Develop an understanding of what it is like to use Scrum and if it is right for your team
Learn how to be a great Scrum Team member
Leave the class with ways to identify common pitfalls and how to avoid them
Course Topics
Agility as a new way of working
Exploring the Scrum Framework
Mastering Scrum
Planning and forecasting with Scrum
Getting started with Scrum
---
Certification & Assessments
All participants completing the Applying Professional Scrum course will receive a password to attempt the Professional Scrum Master I (PSM I) assessment. The industry-recognized PSM I certification requires a minimum passing score of 85%. APS class participants who attempt the PSM I assessment within 14 days of receiving their free password and do not score at least 85% will be granted a 2nd attempt at no additional cost.
You are also entitled to a 40% discount on the PSM II assessment assessment once passing PSM I. The industry-recognized PSM certifications require a minimum passing score.
Venue Location
This will be a Live Virtual Remote / Online class. You can find out more
here
.
You will attend online and be able to see, hear and interact with the trainer and the other attendees. The format and structure of the course remain unchanged and we cover all the same material and topics as if you were attending in person.
Attendees will interact throughout joining in discussions and taking part in group activities and exercises. Lessons are be broken down into short sections followed by a break to allow regular time away from the screen.
The class will run from 09:00 to 17:00 each day in the time zone where the class is scheduled.

Full details on how to participate will be sent to you by email shortly before the class.
Live Virtual Class Requirements:
– Computer with an internet connection.
– Microphone and Speakers.
– Webcam
– Free install of Zoom.us
– We can assist you with the setup in the days before the class if required. Get in touch.
– The trainer will be available for 30 minutes each day before the course starts to offer any technical assistance to get you set up.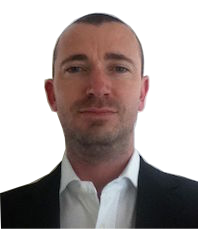 About The Trainer
Simon Kneafsey is a Professional Scrum Trainer with Scrum.org & TheScrumMaster.co.uk. He is on a mission to simplify Scrum for a million people. He has helped 10,000+ people in 1000+ organisations in 35+ countries so far, and he can help you too!
Simon's courses come highly recommended with 400+ personal LinkedIn recommendations. He is 5 star rated on Trustpilot & Google. His clients include Google, NASA, the United Nations, Toyota, Coca Cola, Microsoft, Lloyds Banking Group, GSK and many, many more.
You can read more about Simon Kneafsey on LinkedIn, TheScrumMaster.co.uk and you can contact him here.
Frequently Asked Questions
Are there still spaces available on this course?
If you can see the 'Register' button at the top of the page then there is space available.
What are the course hours?
Courses start at 09:00 and finish at 17:00 each day.
How much does the Professional Scrum Master I (PSM I) certification cost?
The price of the PSM I assessment and certification is included in the course fee. You will also receive a 40% discount on the PSM II assessment.
How do I achieve the Professional Scrum Master I (PSM I) certification?
The PSM I certification is achieved by taking and passing an online assessment in your own time in the days/weeks following the course. It can be taken from any internet connected computer.
What is required to achieve the Professional Scrum Master I (PSM I) certification?
The PSM I assessment is comprised of 80 multiple choice questions that must be completed in 60 minutes. The pass mark is 85%. The course fee provides up to 2 attempts at the PSM I assessment.
How many people will attend?
Our courses are kept small to ensure a premium experience.
How should I prepare for the course?
The only preparation required is to read the Scrum Guide.
What do I need to bring with me?
You should bring a laptop with your normal development tools installed.
I'm not sure if I have enough experience to take the course. What should I do?
Email us at [email protected] and we will advise you.
Can I claim PMI PDU credits for attending the course?
Yes. You can claim 14 PDU's for attending a course.
Can I pay via Credit/Debit card?
Yes. Please click the 'Register' button at the top of the page, then select the 'Register now and pay via Credit Card' option.
Can I pay via Invoice?
Yes. Please click the 'Register' button at the top of the page, then select the 'Register now and pay later via Invoice' option. Alternatively email us at [email protected].
When is VAT payable?
For Live & Online Courses – VAT is added if you are in the UK. VAT will not be added if you are in the EU or the rest of the world.
For In-Person Courses – VAT is added if the course is taking place in the UK or EU. VAT will be removed if you supply an EU VAT number and are outside the UK.
Where can I find your course booking policies?
Visit our course policy page.
Where can I find more answers to common questions?
Visit our full FAQ page for more answers to frequently asked questions.
Where can I contact the trainer with further questions?
Email us at [email protected].

Course Feedback

"He's a phenomenal teacher of Scrum techniques and articulated the Scrum concepts professionally with classic real life examples. Simon has complete mastery about Scrum Framework and proficiently teaches on how it applies in Complex Projects. I think Simon is the best Scrum Trainer out there and I highly recommend him for all your Scrum Training needs"
Praisewin Dinakar. Sr. Staff Software Engineer at Motorola
"I have been lucky enough to attend the Professional Scrum Master presented by Simon. I spent a lot of time searching for, and finding a good course presented by an experienced tutor. Simon lived up to his online profile for professional knowledge and experience and this ensured his course that I attended was both insightful and practical. His knowledge of Scrum theory and real world experiences ensured I received maximum value."
Chris Hall. Lead Software Engineer and Scrum Master at Kingfisher IT Services
"If there is one man who knows about Scrum – it is Simon Kneafsey. Buckle up and hold tight as Simon will take you through everything you need to know about Scrum. Engaging, entertaining and drawing on both theory and practice, he is the only man for all your Scrum training needs."
Davin Mac Ananey. Head of Online / Senior Digital Professional
"How to teach about being a Scrum Master while acting as a great Scrum Master? That's what Simon did. Experienced, precise with excellent communication skills, Simon kept the motivation of the audience and he met the deadline and goals of the course."
Josep F. Barranco. Scrum Master at King
"Simon clearly has a mastery of what he teaches and made the course both enjoyable and simple to follow with real-world examples and good use of visuals. Simon has deep knowledge of Scrum and Agile frameworks having previously run leading edge projects prior to becoming a trainer. If you're serious about Scrum, I recommended you attend one of Simon's courses."
Arun Malhotra. Engagement Leader at Pegasystems
"Simon is really passionate with what was explaining to us. He shared experiences and ideas that added great value to the course. Definitely Simon has lot of knowledge and was able to reply to all our questions and concerns."
Juan A. Rico Lorente. PHP Developer & Scrum Master
"Simon taught a foundation scrum master course to a team of 15 people in an area embracing agile and the Scrum framework. He provided the best and most enjoyable course I've been on: offering practical and well thought out exercises combined with a relaxed and fun delivery of the content. I really enjoyed it and left with immediately usable tools and approaches."
Jack Dance-Panas. Solutions Architect at Lloyds Banking Group

TheScrumMaster.co.uk has helped 1000+ of the worlds biggest and best organisations including:
TheScrumMaster.co.uk has helped 10,000+ people. Read what our clients have to say on LinkedIn, Trustpilot and Google:
Course
Course Name
Start Date
Details
Further Details
hf:tax:product_cat
hf:tax:product_tag

Applying Professional Scrum course
Live Virtual (London, UK time)
7-8th June 2021
7 June, 2021

Live Virtual

,

London

,

Simon Kneafsey

,

UK

Show details
courses scrum-org scrum-org-applying-professional-scrum
live-virtual london simon-kneafsey uk

Applying Professional Scrum course
Live Virtual (London, UK time)
12-13th July 2021
12 July, 2021

Andy Hiles

,

Live Virtual

,

London

,

UK

Show details
courses scrum-org scrum-org-applying-professional-scrum
andy-hiles live-virtual london uk

Applying Professional Scrum course
Live Virtual (London, UK time)
5-6th August 2021
5 August, 2021

Live Virtual

,

London

,

Simon Kneafsey

,

UK

Show details
courses scrum-org scrum-org-applying-professional-scrum
live-virtual london simon-kneafsey uk

Applying Professional Scrum course
Live Virtual (London, UK time)
21-22nd October 2021
21 October, 2021

Live Virtual

,

London

,

Simon Kneafsey

,

UK

Show details
courses scrum-org scrum-org-applying-professional-scrum
live-virtual london simon-kneafsey uk

Applying Professional Scrum course
Live Virtual (London, UK time)
15-16th November 2021
15 November, 2021

Live Virtual

,

London

,

Simon Kneafsey

,

UK

Show details
courses scrum-org scrum-org-applying-professional-scrum
live-virtual london simon-kneafsey uk