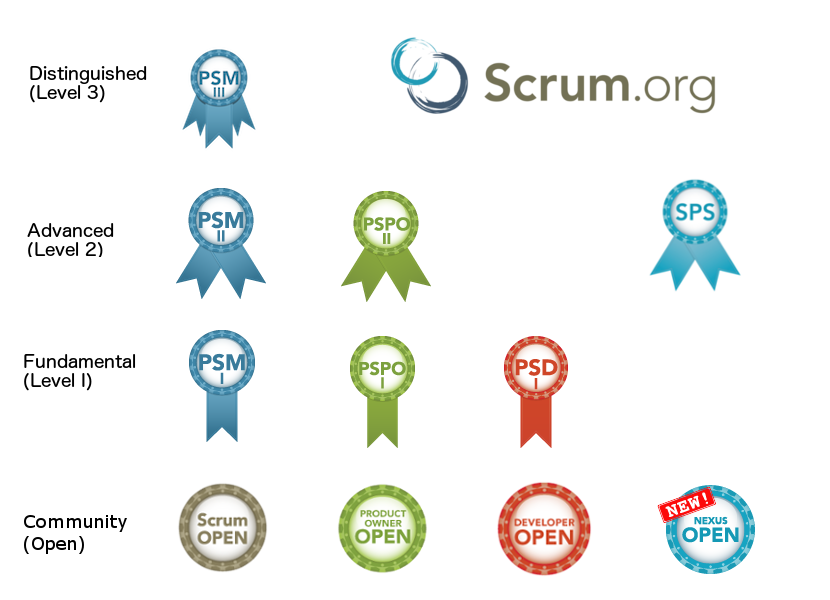 26th July 2016 – This post has been updated to reflect the changes to the Professional Scrum Master assessments and certifications that have been announced by Scrum.org. What was PSM II has been renamed to PSM III. What was previously PSP (Professional Scrum Practitioner) has been renamed to PSM II. You can read more about the changes here.
There are currently 4 levels of certification offered by Scrum.org.
The Open assessments are free to all and are intended as introductory practice assessments for the relevant certification paths.
The Fundamental level certifications show a fundamental understanding of Scrum theory in the relevant area. It proves that they understand Scrum as described in the Scrum Guide and the concepts of applying Scrum.
The Advanced level certifications demonstrate that certificate holders have an understanding of the underlying principles of Scrum and can effectively apply Scrum in complex, real-world situations.
The Distinguished level assessments are intended to shows you have a deep understanding of the application of Scrum, Scrum practices and the Scrum values. Those who pass PSM III also have the ability to apply Scrum in a variety of complex team and organisational situations
New assessments and certifications are launched from time to time so the image above represents the hierarchy of the assessments as at 26th July 2016.
You can find further information on each of the assessments at the Scrum.org site:
For the Beginner:
Scrum Open assessments
Demonstrating a fundamental understanding of Scrum:
Professional Scrum Master I (PSM I) assessment
Professional Scrum Product Owner I (PSPO I) assessment
Professional Scrum Developer I (PSD I) assessment
Demonstrating an advanced understanding of Scrum:
Professional Scrum Master II (PSM II)
Professional Scrum Product Owner II (PSPO II)
Scaled Professional Scrum (SPS) assessment
Demonstrating a distinguished understanding of Scrum:
Professional Scrum Master III (PSM III)
You can find some tips on how to pass the assessments here:
Professional Scrum Master I (PSM I)
Professional Scrum Developer I (PSD I)
Professional Scrum Product Owner I (PSPO I)
Scaled Professional Scrum (SPS)
Professional Scrum Master II (PSM II)
Professional Scrum Product Owner II (PSPO II)
Professional Scrum Master III (PSM III)
---