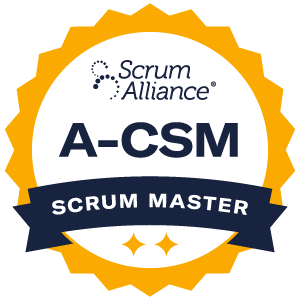 You're a Certified ScrumMaster (CSM), who's been introduced to the Scrum Values, practices, and applications. The next step in your Agile journey is to achieve your Advanced Certified ScrumMaster (A-CSM) certification.
Investing in learning is so important to your Scrum Master journey. This interactive Advanced Certified Scrum Master course builds on and deepens the learning from the CSM course. Join us for 3 days for interactive learning and fun.
Who Should Attend
This is for all those Scrum Masters who are wanting to dig deeper and be better at serving their teams and organisations. To attend you need to hold a Certified ScrumMaster (CSM) certification with the Scrum Alliance.
Course Objectives
Facilitate better dialogue between the Product Owner, Scrum Team members, customers, stakeholders, and executives
Respond confidently when encountering resistance to change, lack of engagement, low motivation, and unavailability of key people
Increase engagement to encourage greater accountability, commitment, and buy-in
Scale Scrum and Agile beyond a single team
Course Topics
Agile and Scrum
The ScrumMaster
Facilitating Team Conversations
Coaching Approach
Team Dynamics
Removing Impediments
Conflict Resolution
Definition of Done
Engineering Practices
The Product Vision
Product Backlog and Refinement
Scrum and the Organization
Scaling Scrum
Self‐developing as a ScrumMaster
Certification
A-CSM Certification
To gain the A-CSM certifications you need to:
Hold a Certified ScrumMaster (CSM) certification with the Scrum Alliance
Attend a certified A-CSM course
Successfully complete all educator-designed components of the course
Accept the A-CSM License Agreement and complete your Scrum Alliance membership profile
Validate at least 12 months of work experience specific to the role of Scrum Master (within the past five years)
Reviews & Feedback

Upcoming Courses
| | Course | Course Name | Start Date | Details | Further Details |
| --- | --- | --- | --- | --- | --- |
View the public course list
View