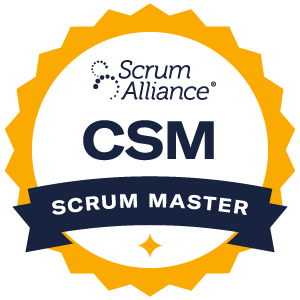 Join our 2-day Certified Scrum Master training and learn about Scrum.
The Certified ScrumMaster course is interactive learning from experienced trainers. This training takes a hands-on and interactive approach to learning about Scrum and what you need to know to become an effective Scrum Master.
After looking at the origins of Scrum and understanding the principles, we do a full simulation that allows you to experience what it's like to build something using Scrum. We then do an in-depth look at the roles, and events and from there explore what it means to be a Scrum Master as a facilitator and coach for the organisation. Join us to not only learn but also experience what Scrum is all about.
Who Should Attend
The Certified ScrumMaster (CSM) course by the Scrum Alliance is beneficial for anyone who wants to implement more efficient and effective management practices into their organization.This course is perfect for:
Scrum Masters, Agile Coaches, Developers, Product Owners, Product Managers
Program and Project Managers
IT, Software Engineering, Testing & Operations Experts
Design & User Experience Professionals
Business Analysts
Leaders, Executives and Management
Course Objectives
Participate actively as a Scrum Team member
Function effectively as the ScrumMaster for the Scrum Team
Deliver a successful Scrum project
Explain why Scrum works and how it is a risk reduction strategy
Explain Agile and the Scrum framework to other key stakeholders
Define and use the full range of Scrum artifacts and commitments
Set up and facilitate Scrum Events
Implement all of the Scrum accountabilities aligned with the Product Owner, ScrumMaster, Developers and Scrum Team
Implement Scrum in real-world circumstances
Course Topics
Overview of Scrum and Agile Practices
Scrum Roles, Events and Artifacts
Process Control
Scrum Master as a coach & faciltator
Validated Learning
CSM Certification
Attendance and active participation during the course will result in registration for the Certified ScrumMaster exam. Upon successful completion of the exam, attendees will hold Certified ScrumMaster (CSM) status.
Reviews & Feedback

Upcoming Courses
Course
Course Name
Start Date
Details
Further Details

Certified ScrumMaster Course
Live Virtual, UK/London time
15-16th January 2024
15 January, 2024

Joanne Perold

,

Live Virtual

,

London

,

UK

Show details

Certified ScrumMaster Course
Live Virtual, UK/London time
29-30th January 2024
29 January, 2024

Live Virtual

,

London

,

UK

,

Zakaria Gaizi

Show details

Certified ScrumMaster Course
Live Virtual, UK/London time
12-13th February 2024
12 February, 2024

Live Virtual

,

London

,

UK

,

Zakaria Gaizi

Show details

Certified ScrumMaster Course
Live Virtual, UK/London time
4-5th March 2024
4 March, 2024

Live Virtual

,

London

,

UK

,

Zakaria Gaizi

Show details

Certified ScrumMaster Course
Live Virtual, UK/London time
11-12th March 2024
11 March, 2024

Joanne Perold

,

Live Virtual

,

London

,

UK

Show details

Certified ScrumMaster Course
Live Virtual, UK/London time
15-16th April 2024
15 April, 2024

Live Virtual

,

London

,

UK

,

Zakaria Gaizi

Show details
View the public course list
View