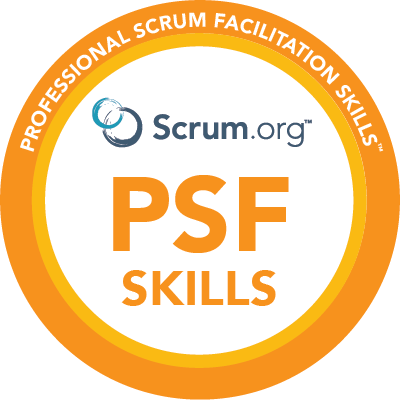 Professional Scrum Facilitation Skills is an interactive course designed to help teams and individuals develop proficiency in facilitation skills, so that they can help teams better solve problems, build consensus and foster transparency.
Great Scrum Teams are self-managing, cross-functional and have the ability and skills necessary to drive to successful outcomes. However, team interactions don't always go as expected and can cause conflict or roadblocks. Effective facilitation can help the team move forward toward their desired outcomes.
In this one-day skills-building course, participants will learn how to become better facilitators to create better interactions with their Scrum Teams, stakeholders and customers. They will learn how to adopt facilitation as a stance and enable the Scrum Values. Students will have the opportunity to address a series of common Scrum-related scenarios by applying several facilitation techniques that they can add to their collection of agile practices. They will create and leave with their own facilitation "plan" to improve their next team discussion or Sprint event.
The course covers all the topics related to Professional Scrum Facilitation Skills (PSF Skills) certification assessment. 
You can download the course datasheet for offline reading.
Upcoming Courses
Course
Course Name
Start Date
Details
Further Details

Professional Scrum Facilitation Skills Course
Live Virtual, UK/London time
15th December 2023
15 December, 2023

Live Virtual

,

London

,

Paul Ralton

,

UK

Show details

Professional Scrum Facilitation Skills Course
Live Virtual, UK/London time
20th December 2023
20 December, 2023

Lavaneesh Gautam

,

Live Virtual

,

London

,

UK

Show details

Professional Scrum Facilitation Skills Course
Live Virtual, UK/London time
10th January 2024
10 January, 2024

Lavaneesh Gautam

,

Live Virtual

,

London

,

UK

Show details

Professional Scrum Facilitation Skills Course
Live Virtual, UK/London time
31st January 2024
31 January, 2024

Live Virtual

,

London

,

Simon Kneafsey

,

UK

Show details

Professional Scrum Facilitation Skills Course
Live Virtual, Europe/Berlin time
5th February 2024
5 February, 2024

Berlin

,

Germany

,

Live Virtual

,

Michal Epstein

Show details

Professional Scrum Facilitation Skills Course
Live Virtual, UK/London time
28th February 2024
28 February, 2024

Lavaneesh Gautam

,

Live Virtual

,

London

,

UK

Show details

Professional Scrum Facilitation Skills Course
Live Virtual, UK/London time
11th March 2024
11 March, 2024

Live Virtual

,

London

,

Paul Ralton

,

UK

Show details

Professional Scrum Facilitation Skills Course
Live Virtual, Europe/Zurich time
18th March 2024
18 March, 2024

Live Virtual

,

Switzerland

,

Wim Heemskerk

,

Zurich

Show details

Professional Scrum Facilitation Skills Course
Live Virtual, UK/London time
12th April 2024
12 April, 2024

Live Virtual

,

London

,

Paul Ralton

,

UK

Show details

Professional Scrum Facilitation Skills Course
Live Virtual, UK/London time
10th May 2024
10 May, 2024

Live Virtual

,

London

,

Simon Kneafsey

,

UK

Show details

Professional Scrum Facilitation Skills Course
Live Virtual, Europe/Zurich time
21st May 2024
21 May, 2024

Live Virtual

,

Switzerland

,

Wim Heemskerk

,

Zurich

Show details

Professional Scrum Facilitation Skills Course
Live Virtual, UK/London time
31st May 2024
31 May, 2024

Live Virtual

,

London

,

Paul Ralton

,

UK

Show details

Professional Scrum Facilitation Skills Course
Live Virtual, UK/London time
17th June 2024
17 June, 2024

Live Virtual

,

London

,

Paul Ralton

,

UK

Show details

Professional Scrum Facilitation Skills Course
Live Virtual, UK/London time
31st July 2024
31 July, 2024

Live Virtual

,

London

,

Simon Kneafsey

,

UK

Show details

Professional Scrum Facilitation Skills Course
Live Virtual, UK/London time
25th September 2024
25 September, 2024

Live Virtual

,

London

,

Simon Kneafsey

,

UK

Show details

Professional Scrum Facilitation Skills Course
Live Virtual, UK/London time
27th November 2024
27 November, 2024

Live Virtual

,

London

,

Simon Kneafsey

,

UK

Show details

Professional Scrum Facilitation Skills Course
Live Virtual, UK/London time
29th January 2025
29 January, 2025

Live Virtual

,

London

,

Simon Kneafsey

,

UK

Show details

Professional Scrum Facilitation Skills Course
Live Virtual, UK/London time
26th March 2025
26 March, 2025

Live Virtual

,

London

,

Simon Kneafsey

,

UK

Show details

Professional Scrum Facilitation Skills Course
Live Virtual, UK/London time
21st May 2025
21 May, 2025

Live Virtual

,

London

,

Simon Kneafsey

,

UK

Show details

Professional Scrum Facilitation Skills Course
Live Virtual, UK/London time
30th July 2025
30 July, 2025

Live Virtual

,

London

,

Simon Kneafsey

,

UK

Show details

Professional Scrum Facilitation Skills Course
Live Virtual, UK/London time
24th September 2025
24 September, 2025

Live Virtual

,

London

,

Simon Kneafsey

,

UK

Show details

Professional Scrum Facilitation Skills Course
Live Virtual, UK/London time
26th November 2025
26 November, 2025

Live Virtual

,

London

,

Simon Kneafsey

,

UK

Show details

Professional Scrum Facilitation Skills Course
Live Virtual, UK/London time
28th January 2026
28 January, 2026

Live Virtual

,

London

,

Simon Kneafsey

,

UK

Show details
View the public course list
View