In March 2020 the COVID pandemic struck and the world changed. Our courses switched from being in-person to live & online.
People still wanted to learn, but there was a certain amount of fear & uncertainty around this switch. People worried that it wouldn't be possible to offer the same top level of training online as it was in-person. What works in-person would not necessarily work online.
I had been teaching online for a few years already at this point and I knew it could work well. As I ran my initial live & online Scrum.org courses in early 2020, I was conscious that lots of things would need to be adapted based on feedback from attendees. Students were initially sceptical about the effectiveness of online training and were apprehensive about spending 2 full days learning online.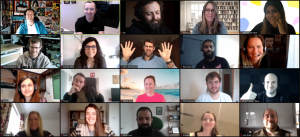 The Scrum.org course stewards did a great job of producing adapted versions of the courseware suited to delivering training online. Tools like Mural and Miro were introduced and the courses were adapted to these new formats. 
I began to carry out a range of experiments to test some theories about live & online learning. Here are some of the things I discovered and the adaptations that were made as a result:
More breaks, lots more breaks – We experimented with different formats and settled on running the courses in 60-minute blocks followed by a 15-minute break. 60 minutes was the limit that most people could maintain focus and shorter breaks did not give people time to do the essential things they needed to do to stay focussed in the next block.
More variation – Even more variation of activity is required online to maintain focus. We switch between exercises of varied formats, small and large group discussions and short lectures. The variety of formats helps keep energy levels up and makes the time fly.
Cameras on – If people have cameras off, the interaction doesn't happen, energy levels will be very low, people will drift away and the learning will be less. Communication is far more than speaking and listening. Seeing each other's reactions is vital. Webcams had to be on.
2 days still works best – We experimented with spreading courses over 3 and 4 days. We believed shorter days may help people maintain focus and learn more effectively. In fact, we found the opposite was true for most and have now stopped this almost completely. When people were spending part of the day back doing their day job, they got distracted and lost focus on the training. 2 full days maybe a little more intense, but intense can be good.
The biggest thing we discovered quickly was that live & online training when done well can be as effective, or even more effective than in-person training. The variety of activities kept people engaged. The frequent breaks kept people fresh and alert. The time flew past and people couldn't believe how easy and effective it could be. 
All of this, combined with the other benefits of live & online learning made a compelling case:
Choice – Students now have far more choices of courses to attend and can select based on many factors including Trainer, date and price. Students are no longer limited by geography. More choice can only be a good thing.
Reduced costs – No more need to spend significant time travelling to a course. Once you are done for the day you can close your computer and go and spend your time doing something more valuable than travelling. You also get to save the associated financial costs of travel which can add significant additional costs to attending training.
Diversity – Our live & online courses are now more diverse than ever and this is a great thing. We get people attending from far and wide with more range of experiences which is to the benefit of everyone attending.
The proof of all this is in the feedback from students. Here are some exerts from recent reviews of our live & online courses:
"World-class delivery – I highly recommend Simon! The course was very well prepared and delivered in an immersive and interactive way." – Davi
"I took PSPO I course with Simon and it was an amazing experience. The way the course was structured was very effective and interactive. Thank you Simon!" – Chrysa
"I found this training fun and very valuable. It was organized to suit the online learning so this challenge is overcome easily." – Ana
"The content was taught brilliantly through guided discussion and practical examples." – Matija
"Found the course very helpful and it worked really well remotely. The structure of the course was great with the right amount of talking/activities and breaks." – Lynn
Demand for in-person training is slowly returning, albeit at much lower levels than before. In-person training will never return to the same level as before. The training landscape is forever changed.
The one thing that live & online training cannot recreate is the easy ability to make quick connections and have informal conversations with different people. There is huge value in these impromptu conversations over coffee and lunch. I haven't yet been in a live and online course that was able to replicate this in quite the same way. I am looking forward to spending more time back in the classroom to experience this again.
When I am now back in real-world classrooms using flip charts and whiteboards, I find I am missing the powerful digital tools that we use online. I see a possible future where hybrid training is commonplace. Where people can attend in-person or online, at the same time and where we can use the best tools for the job, whatever they may be. We are some way off from this, but I have seen it working already so I believe it will come in future.
When I am looking to learn something in future, I will take most of my courses online. The reduced cost and added convenience make it the best option in most cases. I will still attend a small number of in-person classes. These will be the ones where making deeper connections with people is my primary motivation to attend.
Do You Want To Learn Scrum?

Hi, my name is Simon Kneafsey and I am a Professional Scrum Trainer with
Scrum.org
&
TheScrumMaster.co.uk
. I am on a mission to simplify Scrum & Agile for 1 million people. I have helped 10,000+ people so far, and I can help you too.
Find out more
&
get in touch
.
---
---