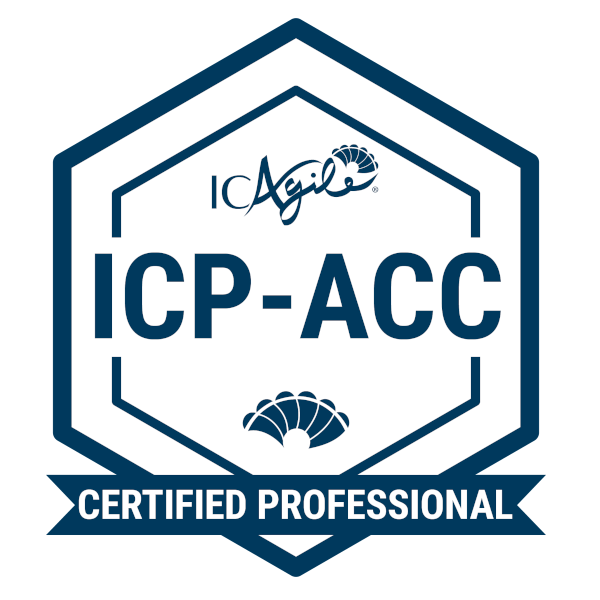 ICP-ACC is a 3-day course that focuses primarily on the mindset, roles, and responsibilities of an Agile Coach.
After finishing the certification, the learner will be able to differentiate between and among mentoring, facilitating, professional coaching and teaching, and will also gain the skills needed to create a safe environment for meaningful collaboration and healthy conflict resolution within an agile team.
This certification introduces participants to foundational team coaching skills and team development concepts for starting and growing teams while focusing on teams and organizations as human systems.
A key part of this certification focuses on developing an understanding of the professional coaching skillset and the value of honing these skills to serve individuals on an agile team.
Audience
Aspiring Agile Coaches
Independent Consultants
Scrum Masters, Agile Coaches, Product Owners
Agile Leaders
Project Managers and Team Leaders
Organizational Change Agents
Course Objectives
The Agile Coaching Mindset
The Coaching Stance
Professional Coaching Skills
Coaching Conversations – Coaching for Action
Mentoring Agile Roles & Transitions
Coaching the Journey toward High performance
Handling Conflict and Dysfunctions within the Team
Building high performing teams
Overcoming Resistance to Change
Measuring team Agility: Agility Assessment Techniques
Overcoming organizational impediments faced by Agile Teams
Prerequisites
Prior experience in working in an Agile environment, or at least one Agile certification like PMI-ACP@, PSM@, CSM@ CSP@, SAFe@ Agilist, etc.
Certifications
There is no written exam to get the certification, but the participants need to actively participate in the workshop through the activities, role-plays, case studies, Q&A, and presentations. There will be lots of practical insights and hands-on activities during the workshop.
Upon successfully attending the course, participants will be issued ICP-ACC (ICAgile Certified Professional — Agile Coaching) with lifetime validity. ICP-ACC is the most recognized Agile Coaching credential globally.
Reviews & Feedback

Upcoming Courses
This course is exclusively for in-house private training.
Get in touch
to book a private course.
View the public course list
View