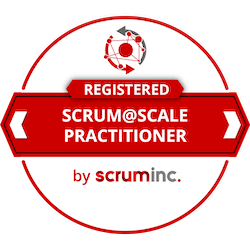 From Fortune 100 companies to start-ups, Scrum@Scale® transforms organizations into Agile enterprises. The Scrum@Scale framework is the brainchild of Dr. Jeff Sutherland, the co-creator of Scrum and the founder of Scrum Inc.
Scrum@Scale naturally extends the core Scrum framework to deliver hyper-productive results across industries and disciplines, including software, hardware, services, operations, and R&D. In our Registered Scrum@Scale training, you will learn how to apply fundamental Scrum and Lean product development skills to scale Scrum from one to many teams across any sized initiative.
As a Registered Scrum@Scale Practitioner™, you will be prepared to:
Facilitate cross-team collaboration and release planning with tens, hundreds or thousands of people
Create and prioritize a transformation Backlog to overcome impediments to scaling
Measure and improve key Scrum metrics at an Enterprise level
Deliver 5 times as much work without adding new teams
Course Prerequisites
A Scrum Master Course or comparable real-world experience implementing Scrum in required. Completion of a Product Owner course is encouraged but not required. We recommend reading the official Scrum@Scale Guide prior to the class.
Credential Process
Scrum@Scale Certification
Course fee includes access to the Registered Scrum@Scale exam. Students who successfully complete the course and pass the exam will earn their Registered Scrum@Scale credential signed by the co-creator of Scrum, Dr. Jeff Sutherland.
Reviews & Feedback

Upcoming Courses
View the public course list
View