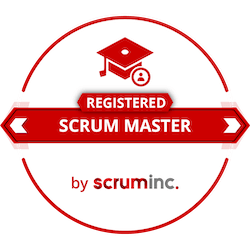 The Registered Scrum Master™ (RSM) course was developed by the co-creator of Scrum, Dr. Jeff Sutherland. Scrum (most widely used application of Agile) is an adaptive, repeatable process that equips individuals and organizations in how to thrive in a world where change is the only constant.
From Fortune 100 companies (Google, Amazon, Apple) to nonprofits (the MIT-Harvard Broad Institute, National Association of Independent Schools), Scrum Inc. has a proven track record of reducing burnout, doubling throughput in half the time, and increasing employee happiness.
Course Overview
In this course, we'll share insights and strategies from decades of success training people to become high-performing Scrum Masters and Scrum teams in businesses around the globe. Through a combination of lectures, hands-on exercises, and review of real-world case studies from across a diverse set of industries, you will experience first-hand the impact of the Scrum framework and the importance of the Scrum Master role. Utilizing the Scrum framework in your organization will significantly improve your way of doing work.
With the help of your instructor, you will learn:
How to use the Scrum Framework to deliver products and services faster and with higher quality
How to leverage lean principles to identify waste in a system, process, or organization
Techniques and metrics Scrum Masters use to improve team happiness and performance
The patterns and practices of high-performing teams
How the Scrum Master role scales in an Agile implementation
Course Prerequisites
This training is for all levels of Scrum experience. There are no prerequisites.
Credential Process
RSM Certification
Course fee includes access to the Registered Scrum Master™ exam. Students who successfully complete the course and pass the exam will earn their Registered Scrum Master™ credential signed by the co-creator of Scrum, Dr. Jeff Sutherland.
Reviews & Feedback

Upcoming Courses
Course
Course Name
Start Date
Details
Further Details

Registered Scrum Master Course
Live Virtual, UK/London time
12-13th December 2023
12 December, 2023

Live Virtual

,

London

,

Romaric Chardonneau

,

UK

Show details

Registered Scrum Master Course
Live Virtual, UK/London time
8-9th July 2024
8 July, 2024

Live Virtual

,

London

,

Romaric Chardonneau

,

UK

Show details
View the public course list
View