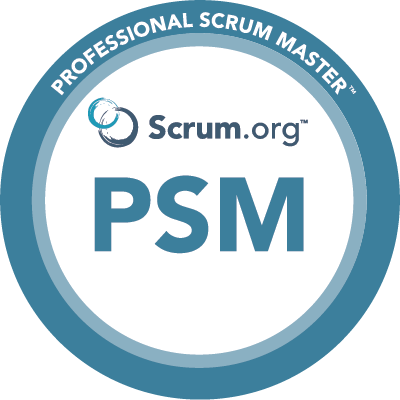 Professional Scrum Master™ (PSM) is a 2-day course that covers the principles and (empirical) process theory underpinning the Scrum framework, and the role of the Scrum Master in it. This course is a combination of instruction and team-based exercises, and teaches what is at the heart of the Scrum and Agile movement.
Over the 2 days, students will see why PSM is the cutting-edge course for effective Scrum Masters and for anyone coaching a software development team toward increased efficiency and effectiveness. The course includes advanced thinking for servant-leadership and behavioural shifts.
Throughout the course, students are challenged to think in terms of the Scrum principles to better understand what to do when returning to the workplace.
The PSM course is much more than just a set of slides and an instructor. In this course, students work on real-life cases with other classmates together as a team. This course is made up of discussions and hands-on exercises based upon real-life cases.
The course covers all the topics related to Professional Scrum Master I (PSM I), Professional Scrum Master II (PSM II) and Professional Scrum Master III (PSM III) certification assessments. 
View the different Focus Areas covered within this class and others. You can download the course datasheet for offline reading.
Upcoming Courses
Course
Course Name
Start Date
Details
Further Details

Professional Scrum Master Course
In Person, UK/London
30th November - 1st December 2023
30 November, 2023

In Person

,

London

,

Simon Kneafsey

,

UK

Show details

Professional Scrum Master Course
In Person, Europe/Zurich time
4-5th December 2023
4 December, 2023

In Person

,

Switzerland

,

Wim Heemskerk

,

Zurich

Show details

Professional Scrum Master Course
Live Virtual, UK/London time
5-6th December 2023
5 December, 2023

Live Virtual

,

London

,

Paul Ralton

,

UK

Show details

Professional Scrum Master Course
Live Virtual, Europe/Amsterdam time
7-8th December 2023
7 December, 2023

Amsterdam

,

Live Virtual

,

Mehdi Hoseini

,

Netherlands

Show details

Professional Scrum Master Course
Live Virtual, Europe/Berlin time
11-12th December 2023
11 December, 2023

Berlin

,

Germany

,

Live Virtual

,

Pawel Kalkus

Show details

Professional Scrum Master Course
Live Virtual, Europe/Berlin time
11-12-13th December 2023
11 December, 2023

Berlin

,

Germany

,

Live Virtual

,

Michal Epstein

Show details

Professional Scrum Master Course
Live Virtual, Europe/Brussels time
11-12-13th December 2023
11 December, 2023

Belgium

,

Brussels

,

Joanna Płaskonka

,

Live Virtual

Show details

Professional Scrum Master Course
Live Virtual, UK/London time
12-13th December 2023
12 December, 2023

Live Virtual

,

London

,

Paul Ralton

,

UK

Show details

Professional Scrum Master Course
Live Virtual, Asia/Dubai time
13-14th December 2023
13 December, 2023

Asia

,

Dubai

,

Fanny Ndengue

,

Live Virtual

Show details

Professional Scrum Master Course
Live Virtual, USA/Chicago time
14-15th December 2023
14 December, 2023

Chicago

,

Live Virtual

,

Reggie Gardner

,

USA

Show details

Professional Scrum Master Course
Live Virtual, UK/London time
14-15th December 2023
14 December, 2023

Live Virtual

,

London

,

Simon Kneafsey

,

UK

Show details

Professional Scrum Master Course
Live Virtual, UK/London time
18-19th December 2023
18 December, 2023

Live Virtual

,

London

,

Paul Ralton

,

UK

Show details

Professional Scrum Master Course
Live Virtual, Asia/Dubai time
19-20th December 2023
19 December, 2023

Asia

,

Dubai

,

Live Virtual

,

Mehdi Hoseini

Show details

Professional Scrum Master Course
Live Virtual, Europe/Berlin time
20-21st December 2023
20 December, 2023

Berlin

,

Daniel Alvarez-Arribas

,

Germany

,

Live Virtual

Show details

Professional Scrum Master Course
In Person, UK/London
21-22nd December 2023
21 December, 2023

In Person

,

London

,

Simon Kneafsey

,

UK

Show details

Professional Scrum Master Course
Live Virtual, Europe/Zurich time
21-22nd December 2023
21 December, 2023

Live Virtual

,

Switzerland

,

Wim Heemskerk

,

Zurich

Show details

Professional Scrum Master Course
Live Virtual, UK/London time
28-29th December 2023
28 December, 2023

Live Virtual

,

London

,

Magdalena Kucharska

,

UK

Show details

Professional Scrum Master Course
Live Virtual, Europe/Brussels time
3-4-5th January 2024
3 January, 2024

Belgium

,

Brussels

,

Joanna Płaskonka

,

Live Virtual

Show details

Professional Scrum Master Course
Live Virtual, UK/London time
4-5th January 2024
4 January, 2024

Live Virtual

,

London

,

Paul Ralton

,

UK

Show details

Professional Scrum Master Course
Live Virtual, UK/London time
6-7th January 2024
Weekend Course
6 January, 2024

Live Virtual

,

London

,

Simon Kneafsey

,

UK

,

Weekend

Show details

Professional Scrum Master Course
Live Virtual, UK/London time
8-9th January 2024
8 January, 2024

Live Virtual

,

London

,

Paul Ralton

,

UK

Show details

Professional Scrum Master Course
Live Virtual, UK/London time
9-10th January 2024
9 January, 2024

Live Virtual

,

London

,

Samuel Adesoga

,

UK

Show details

Professional Scrum Master Course
Live Virtual, UK/London time
11-12th January 2024
11 January, 2024

Ciprian Banica

,

Live Virtual

,

London

,

UK

Show details

Professional Scrum Master Course
Live Virtual, Europe/Paris time
15-16th January 2024
15 January, 2024

France

,

Live Virtual

,

Paris

,

Zakaria Gaizi

Show details

Professional Scrum Master Course
Live Virtual, Europe/Rome time
15-16th January 2024
15 January, 2024

Italian

,

Italy

,

Live Virtual

,

Rome

,

Stefano Milanesi

Show details

Professional Scrum Master Course
Live Virtual, UK/London time
18-19th January 2024
18 January, 2024

Live Virtual

,

London

,

Simon Kneafsey

,

UK

Show details

Professional Scrum Master Course
Live Virtual, Europe/Berlin time
22-23rd January 2024
22 January, 2024

Berlin

,

Germany

,

Live Virtual

,

Michal Epstein

Show details

Professional Scrum Master Course
Live Virtual, UK/London time
23-24th January 2024
23 January, 2024

Live Virtual

,

London

,

Magdalena Kucharska

,

UK

Show details

Professional Scrum Master Course
Live Virtual, UK/London time
25-26th January 2024
25 January, 2024

Live Virtual

,

London

,

Ravi Sandhu

,

UK

Show details

Professional Scrum Master Course
In Person, UK/Birmingham time
29-30th January 2024
29 January, 2024

Birmingham

,

In Person

,

Lavaneesh Gautam

,

UK

Show details

Professional Scrum Master Course
Live Virtual, UK/London time
29-30th January 2024
29 January, 2024

Live Virtual

,

London

,

Paul Ralton

,

UK

Show details

Professional Scrum Master Course
Live Virtual, Europe/Zurich time
1-2nd February 2024
1 February, 2024

Live Virtual

,

Switzerland

,

Wim Heemskerk

,

Zurich

Show details

Professional Scrum Master Course
In Person, UK/London
1-2nd February 2024
1 February, 2024

In Person

,

London

,

Simon Kneafsey

,

UK

Show details

Professional Scrum Master Course
Live Virtual, UK/London time
5-6th February 2024
5 February, 2024

Berlin

,

Germany

,

Live Virtual

,

Pawel Kalkus

Show details

Professional Scrum Master Course
Live Virtual, UK/London time
8-9th February 2024
8 February, 2024

Live Virtual

,

London

,

Paul Ralton

,

UK

Show details

Professional Scrum Master Course
Live Virtual, Europe/Dublin time
12-13th February 2024
12 February, 2024

Dublin

,

Ireland

,

Joanna Płaskonka

,

Live Virtual

Show details

Professional Scrum Master Course
Live Virtual, UK/London time
15-16th February 2024
15 February, 2024

Live Virtual

,

London

,

Simon Kneafsey

,

UK

Show details

Professional Scrum Master Course
Live Virtual, UK/London time
19-20th February 2024
19 February, 2024

Live Virtual

,

London

,

Paul Ralton

,

UK

Show details

Professional Scrum Master Course
Live Virtual, Europe/Paris time
21-22nd February 2024
21 February, 2024

France

,

Live Virtual

,

Paris

,

Zakaria Gaizi

Show details

Professional Scrum Master Course
Live Virtual, UK/London time
22-23rd February 2024
22 February, 2024

James Quantrell

,

Live Virtual

,

London

,

UK

Show details

Professional Scrum Master Course
Live Virtual, UK/London time
26-27th February 2024
26 February, 2024

Live Virtual

,

London

,

Paul Ralton

,

UK

Show details

Professional Scrum Master Course
Live Virtual, UK/London time
27-28th February 2024
27 February, 2024

Berlin

,

Germany

,

Live Virtual

,

Pawel Kalkus

Show details

Professional Scrum Master Course
In Person, UK/London
29th February - 1st March 2024
29 February, 2024

In Person

,

London

,

Simon Kneafsey

,

UK

Show details

Professional Scrum Master Course
Live Virtual, USA/Chicago time
29th February-1st March 2024
29 February, 2024

Chicago

,

Live Virtual

,

Reggie Gardner

,

USA

Show details

Professional Scrum Master Course
Live Virtual, UK/London time
4-5th March 2024
4 March, 2024

Live Virtual

,

London

,

Paul Ralton

,

UK

Show details

Professional Scrum Master Course
Live Virtual, Europe/Dublin time
5-6th March 2024
5 March, 2024

Dublin

,

Ireland

,

Joanna Płaskonka

,

Live Virtual

Show details

Professional Scrum Master Course
Live Virtual, Europe/Zurich time
7-8th March 2024
7 March, 2024

Live Virtual

,

Switzerland

,

Wim Heemskerk

,

Zurich

Show details

Professional Scrum Master Course
Live Virtual, UK/London time
11-12th March 2024
11 March, 2024

James Quantrell

,

Live Virtual

,

London

,

UK

Show details

Professional Scrum Master Course
Live Virtual, UK/London time
14-15th March 2024
14 March, 2024

Live Virtual

,

London

,

Simon Kneafsey

,

UK

Show details

Professional Scrum Master Course
Live Virtual, UK/London time
18-19th March 2024
18 March, 2024

Live Virtual

,

London

,

Paul Ralton

,

UK

Show details

Professional Scrum Master Course
Live Virtual, Europe/Dublin time
20-21st March 2024
20 March, 2024

Dublin

,

Ireland

,

Joanna Płaskonka

,

Live Virtual

Show details

Professional Scrum Master Course
Live Virtual, UK/London time
21-22nd March 2024
21 March, 2024

Live Virtual

,

London

,

Ravi Sandhu

,

UK

Show details

Professional Scrum Master Course
In Person, Europe/Zurich time
25-26th March 2024
25 March, 2024

In Person

,

Switzerland

,

Wim Heemskerk

,

Zurich

Show details

Professional Scrum Master Course
Live Virtual, Europe/Berlin time
25-26th March 2024
25 March, 2024

Berlin

,

Germany

,

Live Virtual

,

Michal Epstein

Show details

Professional Scrum Master Course
In Person, UK/London
27-28th March 2024
27 March, 2024

In Person

,

London

,

Simon Kneafsey

,

UK

Show details

Professional Scrum Master Course
Live Virtual, UK/London time
2-3rd April 2024
2 April, 2024

Live Virtual

,

London

,

Paul Ralton

,

UK

Show details

Professional Scrum Master Course
Live Virtual, Europe/Dublin time
4-5th April 2024
4 April, 2024

Dublin

,

Ireland

,

Joanna Płaskonka

,

Live Virtual

Show details

Professional Scrum Master Course
Live Virtual, Europe/Zurich time
8-9th April 2024
8 April, 2024

Live Virtual

,

Switzerland

,

Wim Heemskerk

,

Zurich

Show details

Professional Scrum Master Course
Live Virtual, UK/London time
13-14th April 2024
Weekend Course
13 April, 2024

Live Virtual

,

London

,

Simon Kneafsey

,

UK

,

Weekend

Show details

Professional Scrum Master Course
Live Virtual, UK/London time
15-16th April 2024
15 April, 2024

James Quantrell

,

Live Virtual

,

London

,

UK

Show details

Professional Scrum Master Course
Live Virtual, UK/London time
18-19th April 2024
18 April, 2024

Live Virtual

,

London

,

Simon Kneafsey

,

UK

Show details

Professional Scrum Master Course
Live Virtual, UK/London time
22-23rd April 2024
22 April, 2024

Live Virtual

,

London

,

Paul Ralton

,

UK

Show details

Professional Scrum Master Course
Live Virtual, Europe/Paris time
24-25th April 2024
24 April, 2024

France

,

Live Virtual

,

Paris

,

Zakaria Gaizi

Show details

Professional Scrum Master Course
Live Virtual, Europe/Dublin time
29-30th April 2024
29 April, 2024

Dublin

,

Ireland

,

Live Virtual

,

Magdalena Kucharska

Show details

Professional Scrum Master Course
In Person, UK/London
2-3rd May 2024
2 May, 2024

In Person

,

London

,

Simon Kneafsey

,

UK

Show details

Professional Scrum Master Course
Live Virtual, USA/Chicago time
2-3rd May 2024
2 May, 2024

Chicago

,

Live Virtual

,

Reggie Gardner

,

USA

Show details

Professional Scrum Master Course
Live Virtual, UK/London time
7-8th May 2024
7 May, 2024

Live Virtual

,

London

,

Paul Ralton

,

UK

Show details

Professional Scrum Master Course
Live Virtual, UK/London time
16-17th May 2024
16 May, 2024

Live Virtual

,

London

,

Simon Kneafsey

,

UK

Show details

Professional Scrum Master Course
Live Virtual, UK/London time
20-21st May 2024
20 May, 2024

Live Virtual

,

London

,

Ravi Sandhu

,

UK

Show details

Professional Scrum Master Course
Live Virtual, Europe/Dublin time
27-28th May 2024
27 May, 2024

Dublin

,

Ireland

,

Live Virtual

,

Magdalena Kucharska

Show details

Professional Scrum Master Course
In Person, UK/London
30-31st May 2024
30 May, 2024

In Person

,

London

,

Simon Kneafsey

,

UK

Show details

Professional Scrum Master Course
Live Virtual, Europe/Zurich time
30-31st May 2024
30 May, 2024

Live Virtual

,

Switzerland

,

Wim Heemskerk

,

Zurich

Show details

Professional Scrum Master Course
In Person, Europe/Zurich time
3-4th June 2024
3 June, 2024

In Person

,

Switzerland

,

Wim Heemskerk

,

Zurich

Show details

Professional Scrum Master Course
Live Virtual, UK/London time
10-11th June 2024
10 June, 2024

James Quantrell

,

Live Virtual

,

London

,

UK

Show details

Professional Scrum Master Course
Live Virtual, UK/London time
13-14th June 2024
13 June, 2024

Live Virtual

,

London

,

Simon Kneafsey

,

UK

Show details

Professional Scrum Master Course
Live Virtual, UK/London time
20-21st June 2024
20 June, 2024

Live Virtual

,

London

,

Paul Ralton

,

UK

Show details

Professional Scrum Master Course
In Person, UK/London
27-28th June 2024
27 June, 2024

In Person

,

London

,

Simon Kneafsey

,

UK

Show details

Professional Scrum Master Course
Live Virtual, UK/London time
1-2nd July 2024
1 July, 2024

Live Virtual

,

London

,

Ravi Sandhu

,

UK

Show details

Professional Scrum Master Course
Live Virtual, UK/London time
13-14th July 2024
Weekend Course
13 July, 2024

Live Virtual

,

London

,

Simon Kneafsey

,

UK

,

Weekend

Show details

Professional Scrum Master Course
Live Virtual, UK/London time
15-16th July 2024
15 July, 2024

James Quantrell

,

Live Virtual

,

London

,

UK

Show details

Professional Scrum Master Course
Live Virtual, UK/London time
18-19th July 2024
18 July, 2024

Live Virtual

,

London

,

Simon Kneafsey

,

UK

Show details

Professional Scrum Master Course
In Person, UK/London
1-2nd August 2024
1 August, 2024

In Person

,

London

,

Simon Kneafsey

,

UK

Show details

Professional Scrum Master Course
Live Virtual, UK/London time
1-2nd August 2024
1 August, 2024

Live Virtual

,

London

,

Ravi Sandhu

,

UK

Show details

Professional Scrum Master Course
Live Virtual, UK/London time
15-16th August 2024
15 August, 2024

Live Virtual

,

London

,

Simon Kneafsey

,

UK

Show details

Professional Scrum Master Course
In Person, UK/London
29-30th August 2024
29 August, 2024

In Person

,

London

,

Simon Kneafsey

,

UK

Show details

Professional Scrum Master Course
Live Virtual, UK/London time
12-13th September 2024
12 September, 2024

Live Virtual

,

London

,

Simon Kneafsey

,

UK

Show details

Professional Scrum Master Course
Live Virtual, UK/London time
16-17th September 2024
16 September, 2024

Live Virtual

,

London

,

Ravi Sandhu

,

UK

Show details

Professional Scrum Master Course
In Person, UK/London
26-27th September 2024
26 September, 2024

In Person

,

London

,

Simon Kneafsey

,

UK

Show details

Professional Scrum Master Course
Live Virtual, UK/London time
5-6th October 2024
Weekend Course
5 October, 2024

Live Virtual

,

London

,

Simon Kneafsey

,

UK

,

Weekend

Show details

Professional Scrum Master Course
Live Virtual, UK/London time
17-18th October 2024
17 October, 2024

Live Virtual

,

London

,

Simon Kneafsey

,

UK

Show details

Professional Scrum Master Course
In Person, UK/London
31st October - 1st November 2024
31 October, 2024

In Person

,

London

,

Simon Kneafsey

,

UK

Show details

Professional Scrum Master Course
Live Virtual, UK/London time
9-10th November 2024
Weekend Course
9 November, 2024

Live Virtual

,

London

,

Simon Kneafsey

,

UK

,

Weekend

Show details

Professional Scrum Master Course
Live Virtual, UK/London time
14-15th November 2024
14 November, 2024

Live Virtual

,

London

,

Simon Kneafsey

,

UK

Show details

Professional Scrum Master Course
In Person, UK/London
28-29th November 2024
28 November, 2024

In Person

,

London

,

Simon Kneafsey

,

UK

Show details

Professional Scrum Master Course
Live Virtual, UK/London time
9-10th December 2024
9 December, 2024

Live Virtual

,

London

,

Ravi Sandhu

,

UK

Show details

Professional Scrum Master Course
Live Virtual, UK/London time
12-13th December 2024
12 December, 2024

Live Virtual

,

London

,

Simon Kneafsey

,

UK

Show details

Professional Scrum Master Course
In Person, UK/London
19-20th December 2024
19 December, 2024

In Person

,

London

,

Simon Kneafsey

,

UK

Show details

Professional Scrum Master Course
Live Virtual, UK/London time
11-12th January 2025
Weekend Course
11 January, 2025

Live Virtual

,

London

,

Simon Kneafsey

,

UK

,

Weekend

Show details

Professional Scrum Master Course
Live Virtual, UK/London time
16-17th January 2025
16 January, 2025

Live Virtual

,

London

,

Simon Kneafsey

,

UK

Show details

Professional Scrum Master Course
In Person, UK/London
30-31st January 2025
30 January, 2025

In Person

,

London

,

Simon Kneafsey

,

UK

Show details

Professional Scrum Master Course
Live Virtual, UK/London time
13-14th February 2025
13 February, 2025

Live Virtual

,

London

,

Simon Kneafsey

,

UK

Show details

Professional Scrum Master Course
In Person, UK/London
27-28th February 2025
27 February, 2025

In Person

,

London

,

Simon Kneafsey

,

UK

Show details

Professional Scrum Master Course
Live Virtual, UK/London time
13-14th March 2025
13 March, 2025

Live Virtual

,

London

,

Simon Kneafsey

,

UK

Show details

Professional Scrum Master Course
In Person, UK/London
27-28th March 2025
27 March, 2025

In Person

,

London

,

Simon Kneafsey

,

UK

Show details

Professional Scrum Master Course
Live Virtual, UK/London time
12-13th April 2025
Weekend Course
12 April, 2025

Live Virtual

,

London

,

Simon Kneafsey

,

UK

,

Weekend

Show details

Professional Scrum Master Course
Live Virtual, UK/London time
17-18th April 2025
17 April, 2025

Live Virtual

,

London

,

Simon Kneafsey

,

UK

Show details

Professional Scrum Master Course
In Person, UK/London
1-2nd May 2025
1 May, 2025

In Person

,

London

,

Simon Kneafsey

,

UK

Show details

Professional Scrum Master Course
Live Virtual, UK/London time
15-16th May 2025
15 May, 2025

Live Virtual

,

London

,

Simon Kneafsey

,

UK

Show details

Professional Scrum Master Course
In Person, UK/London
29-30th May 2025
29 May, 2025

In Person

,

London

,

Simon Kneafsey

,

UK

Show details

Professional Scrum Master Course
Live Virtual, UK/London time
12-13th June 2025
12 June, 2025

Live Virtual

,

London

,

Simon Kneafsey

,

UK

Show details

Professional Scrum Master Course
In Person, UK/London
26-27th June 2025
26 June, 2025

In Person

,

London

,

Simon Kneafsey

,

UK

Show details

Professional Scrum Master Course
Live Virtual, UK/London time
12-13th July 2025
Weekend Course
12 July, 2025

Live Virtual

,

London

,

Simon Kneafsey

,

UK

,

Weekend

Show details

Professional Scrum Master Course
Live Virtual, UK/London time
17-18th July 2025
17 July, 2025

Live Virtual

,

London

,

Simon Kneafsey

,

UK

Show details

Professional Scrum Master Course
In Person, UK/London
31st July-1st August 2025
31 July, 2025

In Person

,

London

,

Simon Kneafsey

,

UK

Show details

Professional Scrum Master Course
Live Virtual, UK/London time
14-15th August 2025
14 August, 2025

Live Virtual

,

London

,

Simon Kneafsey

,

UK

Show details

Professional Scrum Master Course
In Person, UK/London
28-29th August 2025
28 August, 2025

In Person

,

London

,

Simon Kneafsey

,

UK

Show details

Professional Scrum Master Course
Live Virtual, UK/London time
11-12th September 2025
11 September, 2025

Live Virtual

,

London

,

Simon Kneafsey

,

UK

Show details

Professional Scrum Master Course
In Person, UK/London
2-3rd October 2025
2 October, 2025

In Person

,

London

,

Simon Kneafsey

,

UK

Show details

Professional Scrum Master Course
Live Virtual, UK/London time
4-5th October 2025
Weekend Course
4 October, 2025

Live Virtual

,

London

,

Simon Kneafsey

,

UK

,

Weekend

Show details

Professional Scrum Master Course
Live Virtual, UK/London time
16-17th October 2025
16 October, 2025

Live Virtual

,

London

,

Simon Kneafsey

,

UK

Show details

Professional Scrum Master Course
In Person, UK/London
30-31st October 2025
30 October, 2025

In Person

,

London

,

Simon Kneafsey

,

UK

Show details

Professional Scrum Master Course
Live Virtual, UK/London time
13-14th November 2025
13 November, 2025

Live Virtual

,

London

,

Simon Kneafsey

,

UK

Show details

Professional Scrum Master Course
In Person, UK/London
27-28th November 2025
27 November, 2025

In Person

,

London

,

Simon Kneafsey

,

UK

Show details

Professional Scrum Master Course
Live Virtual, UK/London time
11-12th December 2025
11 December, 2025

Live Virtual

,

London

,

Simon Kneafsey

,

UK

Show details

Professional Scrum Master Course
In Person, UK/London
18-19th December 2025
18 December, 2025

In Person

,

London

,

Simon Kneafsey

,

UK

Show details

Professional Scrum Master Course
Live Virtual, UK/London time
10-11th January 2026
Weekend Course
10 January, 2026

Live Virtual

,

London

,

Simon Kneafsey

,

UK

,

Weekend

Show details

Professional Scrum Master Course
Live Virtual, UK/London time
15-16th January 2026
15 January, 2026

Live Virtual

,

London

,

Simon Kneafsey

,

UK

Show details

Professional Scrum Master Course
In Person, UK/London
29-30th January 2026
29 January, 2026

In Person

,

London

,

Simon Kneafsey

,

UK

Show details
View the public course list
View