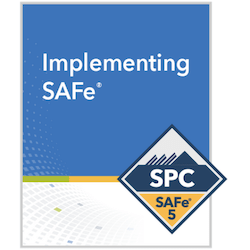 During this four-day course, attendees will learn how to lead a Lean-Agile transformation by leveraging the practices and principles of the Scaled Agile Framework® (SAFe®) to achieve Business Agility in the Digital Age.
Certifying as a SAFe® 5 Program Consultant (SPC), and becoming a change agent, also enables attendees to train and certify others in a range of SAFe® courses.
The first two days of the course—Leading SAFe®—cover the SAFe Principles, and the Team and Technical Agility, Agile Product Delivery and Lean Portfolio Management core competencies. The final two days focus exclusively on what it takes to successfully implement SAFe in the Enterprise, following the SAFe® Implementation Roadmap.
Attendees practice the steps necessary to bring an organization to the tipping point and how to identify Value Streams and organize Agile Release Trains (ARTs), followed by learning how to successfully prepare, launch, and coach ARTs. The attendees then explore launching more ARTs as part of a Solution Train and how to extend Lean-Agile practices to the Portfolio with Lean Portfolio Management. The course concludes by focusing on the areas needed to accelerate towards Business Agility by establishing Organizational Agility, building a Continuous Learning Culture and identifying improvement opportunities by applying the SAFe assessments.
Upcoming Courses
This course is exclusively for in-house private training.
Get in touch
to book a private course.
View the public course list
View