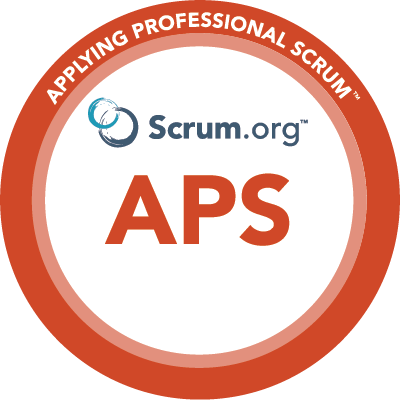 Applying Professional Scrum™ (APS) is a hands-on, activity based course in which students experience how Professional Scrum and the Scrum framework improve their ability to deliver value compared to traditional methods. Scrum provides a better way of working that highlights the use of experimentation, incremental delivery of customer value, frequent feedback loops and the fostering of strong team dynamics.
The course provides an active learning environment for students to engage in discussion, team-based exercises, and individual reflection. During the course, students work in Scrum Teams over a series of Sprints to learn Scrum while using Scrum.
In this two day class* students learn to apply Professional Scrum. They experience new, agile ways of working that enable teams to deliver more value, satisfy stakeholders and work better together. Students work together as a team in a series of Sprints to solve complex problems, facing similar challenges that they face outside of class and learning how to use Scrum to address them. These Sprints enable students to see the practical application of Scrum and to understand the value of an Agile mindset. Additionally, these Sprints expose common missteps and misunderstandings often seen while using Scrum, allowing students to develop an awareness of the associated symptoms and how to correct them. Students not only learn Scrum; they learn how to use Scrum well.
This class is taught both publicly and privately. In a public setting individual students, or multiple colleagues from the same company, will join other students and benefit from diverse experiences. Organizations can also contact Professional Scrum Trainers to hold a private class just for their organization.
View the different Focus Areas covered within this class and others. You can download the course datasheet for offline reading.
* When offered in-person, this course is generally delivered over two consecutive days. When offered as a Live Virtual Class, the course may be broken up into more, shorter days.

Upcoming Courses
Course
Course Name
Start Date
Details
Further Details

Applying Professional Scrum course
Live Virtual, UK/London time
18-19th December 2023
18 December, 2023

Lavaneesh Gautam

,

Live Virtual

,

London

,

UK

Show details

Applying Professional Scrum Course
Live Virtual, Europe/Dublin time
17-18th January 2024
17 January, 2024

Dublin

,

Ireland

,

Joanna Płaskonka

,

Live Virtual

Show details

Applying Professional Scrum course
Live Virtual, Europe/Rome time
5-6th February 2024
5 February, 2024

Italian

,

Italy

,

Live Virtual

,

Massimo Sarti

,

Rome

Show details

Applying Professional Scrum Course
Live Virtual, Europe/Dublin time
7-8th February 2024
7 February, 2024

Dublin

,

Ireland

,

Joanna Płaskonka

,

Live Virtual

Show details

Applying Professional Scrum Course
Live Virtual, UK/London time
19-20th February 2024
19 February, 2024

Live Virtual

,

London

,

Simon Kneafsey

,

UK

Show details

Applying Professional Scrum Course
Live Virtual, Europe/Dublin time
18-19th March 2024
18 March, 2024

Dublin

,

Ireland

,

Joanna Płaskonka

,

Live Virtual

Show details

Applying Professional Scrum Course
Live Virtual, UK/London time
22-23rd April 2024
22 April, 2024

Live Virtual

,

London

,

Simon Kneafsey

,

UK

Show details

Applying Professional Scrum Course
Live Virtual, UK/London time
17-18th June 2024
17 June, 2024

Live Virtual

,

London

,

Simon Kneafsey

,

UK

Show details

Applying Professional Scrum Course
Live Virtual, UK/London time
19-20th August 2024
19 August, 2024

Live Virtual

,

London

,

Simon Kneafsey

,

UK

Show details

Applying Professional Scrum Course
Live Virtual, UK/London time
21-22nd October 2024
21 October, 2024

Live Virtual

,

London

,

Simon Kneafsey

,

UK

Show details

Applying Professional Scrum Course
Live Virtual, UK/London time
17-18th February 2025
17 February, 2025

Live Virtual

,

London

,

Simon Kneafsey

,

UK

Show details

Applying Professional Scrum Course
Live Virtual, UK/London time
22-23rd April 2025
22 April, 2025

Live Virtual

,

London

,

Simon Kneafsey

,

UK

Show details

Applying Professional Scrum Course
Live Virtual, UK/London time
16-17th June 2025
16 June, 2025

Live Virtual

,

London

,

Simon Kneafsey

,

UK

Show details

Applying Professional Scrum Course
Live Virtual, UK/London time
18-19th August 2025
18 August, 2025

Live Virtual

,

London

,

Simon Kneafsey

,

UK

Show details

Applying Professional Scrum Course
Live Virtual, UK/London time
20-21st October 2025
20 October, 2025

Live Virtual

,

London

,

Simon Kneafsey

,

UK

Show details
View the public course list
View