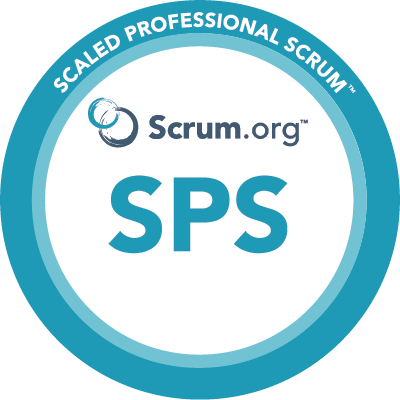 Scaled Professional Scrum™ (SPS) with Nexus is a 2-day course that is designed as an experiential workshop where students learn how to scale Scrum using the Nexus Framework. Throughout, you are introduced to the artifacts and events within the framework, the new Nexus Integration Team role, along with more than 50 associated practices.
Over the 2 days, students will simulate a large software development project using the Nexus Framework. The workshop is delivered using an end-to-end case study where students work together to organize and simulate a scaled software development project. Throughout the workshop, students will be introduced to more than 50 practices that can be used to help reduce complexity and dependencies at scale.
The workshop will provide students with an understanding of how to launch, structure, staff, and manage a large Agile project using Scrum. Throughout the workshop, students will learn the infrastructure, tools and practices needed to successfully scale Scrum to maximize the value of their software development initiative.
By taking a hands-on approach, students are fully engaged in the learning process where they see first-hand the challenges in large-scale development initiatives and solutions for getting the work back on track. They will leave the workshop with techniques to detect irregularities and how to address them appropriately.
View the different Focus Areas covered within this class and others. You can download the course datasheet for offline reading.
Upcoming Courses
Course
Course Name
Start Date
Details
Further Details

Scaled Professional Scrum With Nexus Course
Live Virtual, UK/London time
11-12th December 2023
11 December, 2023

Lavaneesh Gautam

,

Live Virtual

,

London

,

UK

Show details

Scaled Professional Scrum With Nexus Course
Live Virtual, UK/London time
25-26th January 2024
25 January, 2024

Live Virtual

,

London

,

Simon Kneafsey

,

UK

Show details

Scaled Professional Scrum With Nexus Course
Live Virtual, UK/London time
14-15th February 2024
14 February, 2024

Joanna Płaskonka

,

Live Virtual

,

London

,

UK

Show details

Scaled Professional Scrum With Nexus Course
Live Virtual, UK/London time
21-22nd March 2024
21 March, 2024

Live Virtual

,

London

,

Simon Kneafsey

,

UK

Show details

Scaled Professional Scrum With Nexus Course
Live Virtual, UK/London time
23-24th May 2024
23 May, 2024

Live Virtual

,

London

,

Simon Kneafsey

,

UK

Show details

Scaled Professional Scrum With Nexus Course
Live Virtual, UK/London time
25-26th July 2024
25 July, 2024

Live Virtual

,

London

,

Simon Kneafsey

,

UK

Show details

Scaled Professional Scrum With Nexus Course
Live Virtual, UK/London time
19-20th September 2024
19 September, 2024

Live Virtual

,

London

,

Simon Kneafsey

,

UK

Show details

Scaled Professional Scrum With Nexus Course
Live Virtual, UK/London time
21-22nd November 2024
21 November, 2024

Live Virtual

,

London

,

Simon Kneafsey

,

UK

Show details

Scaled Professional Scrum With Nexus Course
Live Virtual, UK/London time
23-24th January 2025
23 January, 2025

Live Virtual

,

London

,

Simon Kneafsey

,

UK

Show details

Scaled Professional Scrum With Nexus Course
Live Virtual, UK/London time
20-21st March 2025
20 March, 2025

Live Virtual

,

London

,

Simon Kneafsey

,

UK

Show details

Scaled Professional Scrum With Nexus Course
Live Virtual, UK/London time
22-23rd May 2025
22 May, 2025

Live Virtual

,

London

,

Simon Kneafsey

,

UK

Show details

Scaled Professional Scrum With Nexus Course
Live Virtual, UK/London time
24-25th July 2025
24 July, 2025

Live Virtual

,

London

,

Simon Kneafsey

,

UK

Show details

Scaled Professional Scrum With Nexus Course
Live Virtual, UK/London time
18-19th September 2025
18 September, 2025

Live Virtual

,

London

,

Simon Kneafsey

,

UK

Show details

Scaled Professional Scrum With Nexus Course
Live Virtual, UK/London time
20-21st November 2025
20 November, 2025

Live Virtual

,

London

,

Simon Kneafsey

,

UK

Show details

Scaled Professional Scrum With Nexus Course
Live Virtual, UK/London time
22-23rd January 2026
22 January, 2026

Live Virtual

,

London

,

Simon Kneafsey

,

UK

Show details
View the public course list
View