Run Your Own Course Using Our Courseware & Assessment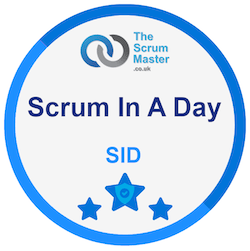 Use our proven courseware to run a Scrum In A Day course for your team or organisation. We provide all the materials you need to run your own training course. Attendees also get an attempt at our Ultimate Scrum Master I (USM I) assessment upon completion of the course.
Scrum In A Day is a 1-day training course that introduces Scrum so attendees can understand how they can use it with their teams and organisations in order to build more valuable products. Students learn through instruction and team-based exercises. 
Scrum is an Agile framework for completing complex work. It was originally created for software development, but it works well for any form of complex work.
Scrum cuts through complexity to focus on building products iteratively and incrementally using an empirical approach. The Scrum framework is simple to learn and use. It can help you to rapidly build market-leading products.
Scrum is the most widely adopted agile framework for complex product development and is used by tens of thousands of organisations and millions of people worldwide.
Scrum has been around for 25+ years and is a proven framework for successful product development.
Scrum is used by Facebook, Google, Microsoft, the U.S and U.K. Governments, Spotify, the Daily Mail, The Times & Sunday Times, Sky, The European Space Agency, Universities and many many others.
Here is a small sample of the courseware.
The course includes 100+ slides and 15+ practical exercises. It is designed to be run in a single day either in-person or live & online.
Please get in touch to find out more.
Assessment & Certification
Why Learn With TheScrumMaster.co.uk?
Designed by the world's leading experts in Agile & Scrum, our interactive, top-rated courses provide everything you need to start down the path to effective Agile.
We have worked with some of the biggest organisations in the world.
Our courses include insights from our real-world experience along with good practices we've gathered during years of practice.
We are 5 star rated on Google & Trustpilot and have over 500 great reviews on LinkedIn.
We have taught over 10,000 people.
Our training options include a unique assessment and certification to test & prove your knowledge.
Learning with Simon was fantastic. He provided a great mixture of presentation, interactive activities and discussion cementing the key principles.
Thanks Simon for the excellent training. It was a very interactive session - Simon was very helpful and experienced and I really liked the structure of the class,
The knowledge and experience Simon shared added an incredible value to the overall curriculum. I would highly recommend Simon as a Trainer!
Frequently Asked Questions
What Else Do I Need To Know?
We are here to help you so contact us if you have more questions.
Hi, my name is Simon Kneafsey. I am a Professional Scrum Trainer on a mission to simplify Scrum & Agile for 1 million people. I have already helped 10,000+ people. I can help you too! Get in touch.
Principal Trainer @ TheScrumMaster.co.uk